Andrina becomes an Olympian
Today the national olympic comittee of Switzerland announced Andrina as participant of the Games of the XXXII. Olympiad in Tokio.
In only 5 weeks of competitions we managed to get into the Top32 of the World Ranking an qualify for Tokyo2020. Two times PR, jumping on borrowed Poles in foreign country. Bar love, bar hate. It was all there in this short period of time, it was crazy and the next weeks this summer will be even more so.
Medienmitteilung – Selektion Tokio 2020 Andrina Hodel_3. Juli 2021

Wow, the time between End of May and End of June was really busy.
10 competitions in 6 weeks (and I work full time "besides" that). I'm sorry I couldn't hold my pace in writing newsletters.
24.01.2021
Adrian equals PR – 5.10m
After many good weeks of training Adrian showed today, that he is on a new level. In training he jumped (with bar) 5.05, 5.10, 5.15 and with a little help from me 5.30. But today was competition time, that's a different story at the first meet of the year. Adrian had to wait more than an hour to enter the competition. He decided to start early (4.60m) and jump as many heights as possible, so there was plenty of jumps to adjust. In the end the run-up was very relaxed, the take-off point was satisfying (3.70 to 3.85m). Lots of space over 5.10 and badluck at 5.15 at the end of the day. Well done Adrian, let's go on an see what will be next. Next stop next saturday in Magglingen.
12.09.2020
Women's Nationals 2020 – Going for silver no matter what
Andrina doesn't like the heat. She can deal with it, but she doesn't like it. Andrina had a flight to Oklahoma the day after the nationals, beeing abroad for at least the next 3 months. And she already had 2 PR's and a Diamond League appereance in the last few weeks. So, she had a lot of other things in her mind that week before the nationals. I was happy that she did not forget the nationals.
This story behind gave the competition a certain looseness. Andrina was very cool, even tough it was very hot (30°C). Nice warm-up, aggressive swing on the pole, take-off far out for the first time (at 4.35m in the competition she was at 3.60m at take-off). The whole competition her run-up was great. Mid's at 15.2 to 15.4m, witch is a world class mid, concidering that she is 1.70m tall.
Again she jumped 445/22.5 and 21.8. Her clearance over 4.35m was a "just work" nothing of elegance, just "I want that silver medal" – because her main contender jumped 4.35m in 2nd attempt right before her, so she had to clear too in 2nd attempt. Gold, Angelica 4.66m, was never in reach that day. 4.45m was not too high that day, it was just not the day things went perfectly together. Andrina makes a lot of progress right now after finishing school so she is never for a longer period on a certain level to adjust poles, gripheights, run-up and so on. Also this competition 445/21.8 was too soft in the end (but it was not the day for hard poles in the beginning, because most of the competition it was headwind and sidewind, causing you – at nationals – to make no experiments until you got that silver medal). No 24 hours later, Andrina waved goodbye from the airport – off to Oklahoma University to take a brake and explore the world.
11.09.2020
Men's Nationals 2020 – no luck this time for my team
Indoors 2020 Adrian an me catched silver and bronze. 2019 outdoors we had silver  (Adrian) and 4th place.
It was maybe the best nationals line up looking at the season-bests since maybe 20 years. 11 Athletes had a season best of 4.80m and higher. It was obvious that you had to clear at least 4.90m first attempt or 5.00m to win a medal. So it was.
After 4.80m that I cleared with a clean sheet so far and Adrian cleared with one miss in his books, it became clear that you had to jump 5m for a medal and that is all that count's that day. Adrian went for 4.90m because he had lots of energy left and needed some more jumps to be on the right pole for 5m and maybe 5.10 to fight for the medals. But an inconsistency at the take-off and again no luck with the poles one jump to hard one to soft made him struggle at 4.90m. It was not his season, this 2020. Broken bone, than an ultra-fast comeback and then no luck in competitions. But you have to consider, that other athletes may not have recovered from that broken bone so fast to be able to compete again the same season.
We were coached by our teammate Andrin, who (asshole) will be in the cockpit of an F/A-18 in a few weeks. After 4.80m I went over and discussed, that I want to skip 4.90m to have all the energy for 3 attempts at 5.00m. He agreed. Age 37, very few trainings, you don't jump 10 times full trottle in a competition and there was, as I had a clean sheet, also the risk of getting some misses into my result. We concluded that I will back up from 16 to 18 steps because I needed to jump the 475 pole, grip 5cm higher. It was no tailwind, so without beeing a magician you need an option to create more speed, witch was taking two more steps. I went all in, I tried hard but did not have success. Attempt one was almost a death-spiral. But that is exactly what pole vault and what competition is about, you wanna go for a medal, make tough decisions, follow your goal. If it was successfull or not you know afterwards. So I ended up ranked 7th. Place does absolutely not matter – if you already got 30 medals at home. In the end 5.00m second attempt was needed for bronze medal. Dominik won the nationals with some nice clearances at 5.35m and 5.45m, ahead of Felix with a new PR of 5.10m (U20 Athlete) and decathlon-champion Simon Ehammer clearing that 5m in his second attempt. 
5.09.2020
Emmenbruecke – or: It is possible to have to much tailwind and too much downhill run-way
We decided to participate in a very small pole vault. 8 friends jumping on their own. Only the athletes, coaches and a little staff.
Tailwind was about 3-5m/s and the runway was from the mid to the box a downhill road. We all struggled a bit on that. Adrian had issues finding something like a take-off, excessively running into the bending. Andrina only ran in 2nd of 5 gears and me, well age 37 you take that tailwind and are happy with it, but the downhill road made it also for me hard to take-off nicely. For Adrian 4.60 was a disappointment because his jumps where ok, but he was not consistent in his run-up and most of the jumps where under at take-off. The rest of the jumping up in the air was very nice. Andrina jumped 4.20m and missed 4.30m by nothing. No luck that day but better than training, because after Lausanne, there was no motivation left to train alone at home after all this emotions. For me it was quite a successfull day. Jumped 4.60m and 4.80m and tried 475/19.9 at 5.00m looking forward for nationals 6 days later.
2.09.2020
Diamond League Lausanne
Again a very stable performance and this time with the bonus of juming ata live television broadcast and an amazing crowd in an amazing atmosphere.
Andrina managed this situation very good. She has learned a lot the last year. In Clermont-Ferrand on february she felt in the wrong place in the spotlight. This time she embraced it. The competition itself was ok, technically not so well, but with lot's of energy that – again – made her jump 445/21.8 and clear 4.34 with lot's of space. At 4.44 again no luck, not enough depth at second attempt and pole too soft at 3rd attempt. Mentally the best result so far in her career.
After the competition Andrina decided to stay in Lausanne to hang out with the other athletes, right decision. Arlette and I drove home meanwhile, arriving home after midnight. There I watched the competition again on TV. I saw her interview and almost fell of the chair 2 o clock in the morning. My god, this was the most impressing part of her performance that day.
29.08.2020
Winterthur – no height for everyone
After I fought some wars to organise an international pole vault competition at my home stadium with a decent line up – everything ended (again) quite "wet."
Of 14 athletes, 7 showed up after the forecast was (really) bad and then 6 started the competition, also Andrina who started at 4.30 to only try 4.30 and then 4.50m and Adrian, starting at 4.80m. No one got a result.
Let's forget about that. At least it was fun and when Lamin and Dennis started jumping top-less I guess a few spectators of the next by youth competition got unconscious.
26.08.2020
A dream comes true
Some 16 years ago – my PR was about 5.25 or 5.30 –  my dad said to me, if you jump 5.50 I call Jacky Delapierre, organiser of Athletissima Diamond League Meet (at that time it was called Golden League), and try to make you jump in Lausanne. Jacky Delapierre was once member of my track club and he managed that my dad, while doing military service in Lausanne, was allowed to throw his hammers on Lausanne's Soccer ground (unbelievable in our time).
I never achieved 5.50m so my did not call Jacky for me.
But that wednesday I got a call, that Jacky asks for one of my athletes to compete in Diamond League Lausanne and not the "ordinary meet" but the street meet in the middle of Lausanne on two parallel run-ways, men and women side by side. After only 7 years of coaching I was lucky enough to have a gifted athlete in my group to fullfill this dream. But it was not only her achievment, it was the achievment of all my athletes I had so far, starting with Angela, than Andrin, Adrian, Severin and the newest member of my team Andrina. All of them made me a better coach and therefore helped the other teammates for their success.
So there I was in Lausanne a few days later having my coaches-accreditation sitting in a car beeing driven from the hotel to the competition area, next to me my girlfriend Arlette, also proud of her coaches accreditation (wtf… it was my hard work! No, she was the person giving me all this free space and lot's of time I was away on competitions) and then the show started. The competition is another story, told later…
22.08.2020
U23 Nationals – Andrina PR 4.40
It was almost the perfect competition of the 2020 outdoor season.
Again no error from warm-up jump Nr. 1 till the end.
From 4.10, to 4.30, to 4.40 PR clean sheet, using 430/17.2 for starting height to clear gold medal, then 445/22.5 for 4.30 and 4.40, then switch to 21.8 for 4.50m and there a second attempt (on instragram) that was sooo close. Only a bit of depth was missing. And at 3rd attempt for the first time this season Andrina had really a bit of tailwind and the 21.8 got to soft.
(Almost) perfect competition.
22.08.2020
Adrian is back
No, Adrian did not skip competitions because he just did not have appetite to compete. 7.5 weeks earlier, end of june the following happened: Warming up Adrian did some of these warm-up jumps with straight pole, where you ran on gras and just jump over straight pole, a beginner exercice. Of course and very correctly he did these exercice barefoot. We do a lot barefoot.. But it happened that in the air preparing the landing his take-off foot did not pass the straight pole, but Adrian like "kicked" his small toe into the pole. The toe was abducted in a 45 degree. 10min later I got a call. I was in the office and was preparing to coach Adrian jumping at lunchtime. Adrian was on the phone and said: Well… I think I broke my small toe…"
Immediately we started a recovery programm. First by eating a pineapple waiting for the doctor's appointment at 1.30pm. Why pineapple, find out.
Few days later University Clinik Balgrist fixed Adrian's toe, Adrian did everything possible from eating healthy to recover the best way and we followed a very progressiv agenda of mine to stress the bone, starting from week 4. After week 6 adrian was jumping in spikes from 10 steps. And 7.5 weeks after he broke his toe, he jumped his first competition from full run-up. Not with a satisfying height (4.60m), but others restart training at that time after a broken bone. Very, very well done Adrian.
15.08.2020
Hailstorm in Aarau – Andrina PR 4.37
This competition Andrina started at 4.22m, the highest starting height so far  and using two poles harder than at the end of the competition in Frauenkappelen. For the first time she jumped only on 4.45m poles during a competition. And we went to 16 steps. After 4.22m in the last attempt, it followed a 1cm PR of 4.37m. Heights where not choosen by us, so it was a funny coincidence. Next height would have been a big PR of 4.47m, so we went for 445/21.8, a pole Andrina jumped never before in competition. After a first try-out jump….. a hailstorm started and lasted for 20min. Temperatures droped by 15°C from 30 to 15°C, the track was covered with ice. Then while it "only rained" 10min, hope came back, we could continue the competition but it started another hailstorm for almost half an hour. During that storm we sat in the car 10m next to the track and we decided to wave goodbye and drive home. So we sat, quite saturated with water in that car and drove to the next highway-roadhouse. There changing cloths I nullified the cleaning ladies work by leaving all that gras inside my clothes at the toilette floor. It was a mess like a sheep flock went to the toilette…
Good competition, unlucky but funny ending.
1.08.2020
Frauenkappelen
I long time since the last competition, finally we started the outdoor season 2020. What did we do meanwhile? Lot's of vaults in training.
First competition outdoors for Andrina on 1st of august was a success. Clean sheet from 4.10 to 4.30 and then some nice tries at a new PR-height of 4.40m. Poles quite soft in choice and execution. The stability of the run-up, only 14 steps for this first competition and the execution of the jumps was stunning. No major error from warm-up jump nr. 1 till the end of the competition.
24.02.2020
Allstarperche at Clermont-Ferrand
I could write a book about that weekend. So I better keep it short. Even the car drive was…not so clean, let's leave it at that.
Adrian had no luck and finished with no height, blowing through his starting pole completely. Andrin jumped nice 4.52m. Andrina jumped 4.10m with lots of space but struggled to manage 4.20m. I jumped in a masters serie including Jerome Clavier, Pierre Charles-Peuf, Fabrice Fortin, Stephane Diaz and also Jean Galfione (who didn't survive the warm-up). I got third with 4.82m and had a good attempt at 5.02m.
23.02.2020
Indoor Nationals: Two medals for the men's Team. Adrian takes Silver, Coach Patrick takes the Bronze Medal.
Best possible outcome in the men's competition, looking at the podium. Championship title was never a question as Dominik Alberto sailed clear on 5.00 and 5.20 easily and then also cleared a season best of 5.40m. Behind that demonstration Adrian jumped 4.80 and 5.00 to win Silver. Having nothing to lose and nothing to win, he tried a new pole and went to 5.20 for a personal record. Too much under and too much to the left he missed that goal, but got a good picture of how to jump on that pole in Clermont-Ferrand next week.
My part was to avoid that medals get taken away what I had do with the hardest pole I jumped indoors for 2 years. 4.90 was a nice jump. At 5.00 I had cramps but got a good shot at it at third attempt after some massage.
Second day Andrina jumped nice but was a bit sick (here voice would have qualified for men's competition) and it was also big presure to jump better than the meetings before. All that is not a got setup for a good outcome, witch then was a forth place with 4.10m.
2.11.2019
Am Samstag habe ich einen Vortrag beim Ostschweizer Leichtathletik-Kader zum Thema Schuhe und Barfusslaufen (Bericht) gehalten. Auf Einladung von Yves Zellweger (NLZ Ostschweiz) und Empfehlung von Christian Gutgsell, Physiotherapeut und Sprint-Coach, präsentierte ich meine Erfahrungen als Athlet und Coach zum wichtigsten Arbeitsinstrument der Leichtathleten . 
Foto: Roman Jäger
Saturday (nov 2nd) I hold a lecture at Ostschweiz-Track&Field-Organisation on (sports) shoes and barefoot training. On invitation by Yves Zellweger and on recommendation by Christian Gutgsell, physiotherapist and Sprint-Coach, I presented my experience about the most important tool of every athlet. 
21/22.09.2019
Andrina takes the bronzemedal at U20 Heptathlon Nationals
I thought the season was over… but anyway. This "just for fun" appearence turned out into fun and some PR's. Hurdles: 14.40s into a headwind for the start. 1.55m in the high jump and 10.04m shot put. Maybe both a PR? 25.96s in the 200m was a PR for sure to end day one. 5.79m in the long jump, another PR and also a bit of a relevant one for pole vaulting. Javelin…ah… no… The only discipline I told her, not to hurt herself (elbow). As a pole vaulter you have quite a lot of force on the shoulder-level to attack the pole, but we don't have a 90° angle at the elbow while applying that force, the arm is straight. And we know what body tension is. So, when a pole vaulter attacks the throw hard and mostly not with the best technique, there's a week spot: the elbow-tendon. Nobody got hurt, I'm happy. 800m: 2:44.91min. 4674 Points in the end. Nice.
8.09.2019
U20/U23 National Championships in Winterthur
The boys brought them home. Adrian wins the U23 National Titel and Andrin took silver. It where rough conditions. The competition first got delayed half an hour due to heavy rain and it continued to rain the hole f…. day. Warm up was like: "Ok, I know what I should do." Andrin started at 4.00m, with no training last two weeks. How he ended up jumping 4.50m under such conditions, it's his secret. He simply knows how to pole vault. Adrian started at 4.60m, using a very soft pole, and this was enough for the win. As the poles where too soft to attack 5.00m and more, we decided to get on harder poles on just 4.70m. But the rain got stronger …  it was just a shitty day; not what Adrian expected to show in front of an amazing fan-crowd.
And then there was also the 100m hurdles competition. Andrina took silver and had promissing first 8 hurdles, running very close to her "roommate" (at international champs) Annik Kählin, heptathlon bronzemedalist at U20 europeans, who went for the national title in 14.07s (-0.6). 
I'm happy heaving such athletes and happy for them having success in what they work for. 
7.09.2019
U20 National Championships in Winterthur

At the end of the season Andrina jumped 4.15m for taking gold at her training stadium. At 4.30m she took her hardest pole again (430/17.2), but it didn't work out today. All jumps from warm up till the end showed consistency around 4.25m. Therefore it's a good finish to this season.
My thoughts: All these poles got too soft during the season. In pole vault you don't work as hard as you could on poles that are actually to soft. Too soft poles keep you away from progressing and jumping high). Why not taking harder ones? Thats a question of experience witch means "well used" time. You can tell somebody, if you use a harder pole, you will work better and (important) you will land safely. But the athlete needs time to believe this, step by step. Because first he/she thinks: "And if not, I'm gonna killl myself."
1.09.2019
Gala Dei Gastelli Bellinzona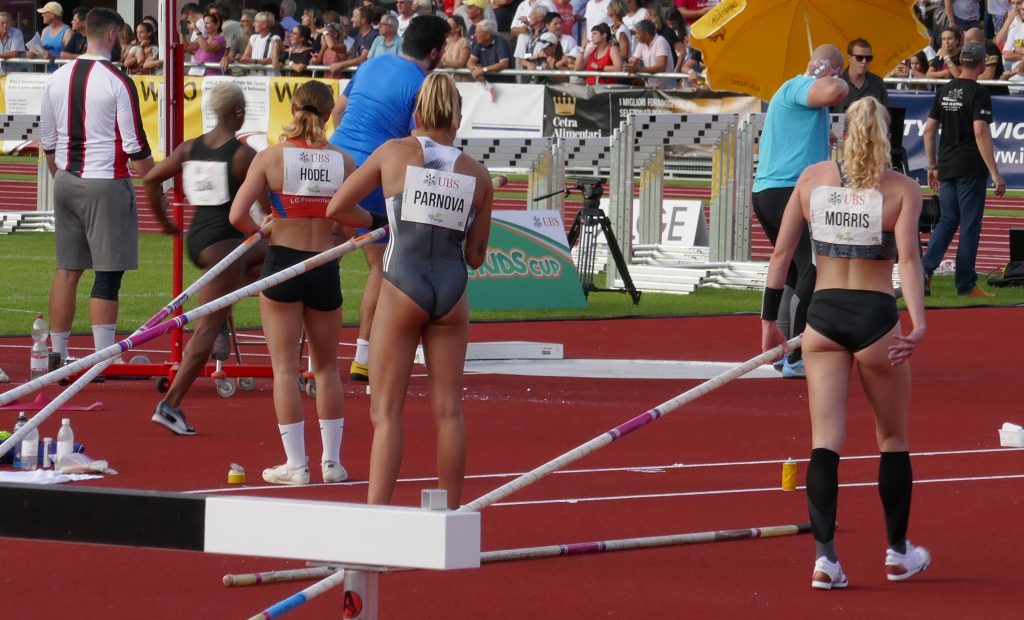 This meet was about motivation and inspiration. After Andrina competed in Luzern with Alysha Newman and Tina Sutej, this was even a bigger number. Sandi Morris, Katie Nageotte, Yarisley Silva, Huiqin Xu, Emily Groove, all 5 above 4.70 this year. Unfortunately the pit was the first ever I saw, that was on 80cm height until the zero-line. Lots of competitors struggled getting a feeling during warm up. Andrina made 4.11m at third attempt with ease, but had to pay for that. As rookie she had to start every height as first jumper. Exhausted we passed 4.26m and tried to show some good jumps at 4.41m. I didn't work out, but it was a good lesson.

25.08.2019
National Championships – Adrian got the Silver Medal (5.00m)! Andrina wins the bronze medal (4.25m)! Coach Patrick in 4th Place (4.80m) – Andrina 23th in the 100m sprint.
Freitag. Adrian bekundete beim Einspringen Mühe mit der Anlage. Deshalb stieg er schon früh – bei 4.65m – in den Wettkampf ein, für eine neue PB schliesslich zu früh, dazu fehlte am Ende die Energie. Nach einem Fehlversuch auf 4.65m war Adrian dann drin im Wettkampf und liess bis 5.00m nichts mehr anbrennen, er meisterte alle Höhen vor der Konkurrenz, was ihm schliesslich Silber sicherte. Auf 5.10m fehlte dann die Energie für einen Exploit und die ständig wechselnden Windbedingungen waren dem Vorhaben PB auch nicht zuträglich. 80% des Wettkampfs herrschte leichter Gegenwind. 
Mein Wettkampf war dem entsprechend. Ohne Wind-Unterstützung – im Wortsinne – reicht es mir nicht mehr für 5.00m, was für eine Medaille notwendig gewesen wäre. Vierter Platz geht in Ordnung, mehr war nicht drin. 
Andrina zeigte einen weiteren starken 100m-Lauf. In 12.11s mit "nur" 0.6m/s Rückenwind lief sie (theoretisch) schneller als bei ihrer PB (12.08 mit 1.9m/s Rückenwind). Insbesondere liess sie auf den ersten 60m auch Läuferinnen hinter sich, die im Ziel unter 12 Sekunden blieben. Als Stabhochspringerin reichen 60 schnelle Meter vollends.
Samstag. Wiederum war der Wind nicht so, dass man mit vielen hohen Sprüngen rechnen durfte, er wechselte zu oft, als dass man sich – zumal noch an einer Meisterschaft – auf Spielchen mit härteren Stäben einlassen konnte bzw. wollte. So kam auch Andrina nur langsam vorwärts in ihrem Stabarsenal. Sie stieg mit 4.15m so hohe in den Wettkampf ein, wie noch nie zuvor mit dem klaren Ziel: hinter Moser und Büchler gibt es nur 1 freien Platz auf dem Podest und für den brauche ich Energie auf 4.25m bis 4.35m. Schliesslich reichten 4.25m im zweiten Versuch übersprungen für Bronze. Erst im letzten Versuch auf 4.35m kam Andrina mit dem Stab zurecht, mit dem sie in Luzern 4.36m gesprungen war (430/Flex 17.2) und auch dieser Sprung war wieder erfolgsversprechend, wenn auch nicht von Erfolg gekrönt.
Fazit. Mit Silber, Bronze und einem vierten Platz, alle Leistungen rund 10cm unter PB (bzw. SB) kann ich resümieren, dass – ohne Exploit – das Maximum erreicht wurde. Das ist beim Stabhochsprung nie eine Selbstverständlichkeit. In diesem Sinne: Sensationelle Team-Leistung.
18.08.2019
Arlesheim Street Meet and Winterthur Summer-Meet
Adrian got a decent 3th place at the street meet in Arlesheim , jumping 4.80m easily, behind Dominik Alberto (5.40m) and Stanley Joseph (5.30m). No luck that day for Adrian at 5.00m.
Andrina made her first competition after a summer break. Goal was to jump as many jumps as possible and get consistent. We got that (8 attempts). Outcome of 4.16m wasn't  overwhelming, betting on position of the stands we would have lost lots of money that day:-), but the jumps itself where promissing.
It's still the same, as 10 or 15 years ago, and I am happy to say, I'm still faster than what I can handle technically (sorry you have to google my age). After a few trials I made 4.60m and 4.80m and at 5.00m blow threw 475/80 Flex 19.9 at first attempt, witch was the pole I jumped 3 times 5.00m indoors.  I got to 475/82 19.3 for the remaining attempts, but again I was more fast than sucessfull. If I get it together, nationals next week will be fun.
14.08.2019
Adrian's birthday surprise – Pole Vault Meet Landau (GER)
It was his birthday (14th of august) and it was planned, that Adrian starts 2pm in a competition of upcoming athletes around 4.80m. But all of a sudden his friend and organiser of the street vault in Landau, Dennis Schober, put Adrian in the top international competition because one competitor did not show up.
So then his opponents named Holzdeppe, Walsh, Filippidis. But that's not the end of a phantastic story. After a mediocre warm-up, at the presentation of the athletes the crowd sang "happy birthday" for Adrian. I'm proud he did react the right way to this. He went one pole up and made his starting height (4.82m) at first attempt. Good boy! 5.02m then was to high that day. If you look at the results, exept Filippidis who cleared 5.67m for the win, the elite vaulters only jumped 5.47m, witch shows the difficult conditions. So 4.82m was neither good or bad. But the whole competition was what pole vault is about too, besides fighting for centimeters – a sport you get great memorys. Upcoming event for Adrian is another street vault on sunday, in
Arlesheim
.
1.08.2019
New personal best for Adrian – 5.10m
Am Schweizer Nationalfeiertag fand zum 15. Mal das 1. August Stabhochsprung Meeting in Frauenkappelen (BE) statt. Mit am Start war Adi, der diesen Wettkampf der tollen Atmosphäre wegen besonders schätzt.
Bei perfekten Bedingungen überflog Adi die Anfängeshöhe von 4.60m und auch die darauffolgenden 4.80m und 5.00m im ersten Versuch. Adi sprang im Sommer 2017 seine bisherige Bestleistung von 5.01m – seit da stagnierten seine Leistungen an Wettkämpfen trotz des harten Trainings. Nach drei Monaten Training unter der australischen Sonne, kam er im März voller Tatendrang wieder zurück in die Schweiz, konnte bis anhin aber nicht zeigen, zu welchen Höhen er fähig wäre.
Nun lag die Latte auf 5.10m, einer Höhe, die für Kübler schon seit längerer Zeit nicht mehr auflag. Adi zeigte, dass seine täglichen Trainings sich lohnten. Adi übersprang auch diese Höhe im ersten Versuch problemlos.
Für die 5.20m hat es an diesem Tag leider nicht mehr gereicht. Nach einem harzigen Jahr mit wenigen Höhenflügen kam mit der neuen persönlichen Bestleistung aber endlich die wohlverdiente Belohnung für die harte Arbeit. Doch eins ist ganz klar: Da ist ganz bestimmt noch Luft nach oben.
21.07.2019
U20 European Championships Final
The story of this pole vault final is short and simple. Andrina failed to perform because of her recently achieved european leading position. Beeing looked at as the season best captured the brains focus and made her unable to perform well. Fortune wasn't on her side either, missing the starting height on the second attempt by a not maching position of the stands. The wind and the rain, where no problem. We where well prepared for that and Andrina can perform under any weather condition.
What could have been done better? It is difficult to foresee, how your mental type matches with the pressure generated by a leader position that comes to paper, so that everybody can recognize, only 8 days before a major championship. If your mental type already matches with such a situation by your temperament, perfect. If not, the outcome of that competition won't please you. It is difficult to prepare for such a situation, if you only have a vague idea of how your brain will acutaly react to the situation, standing there on the runway. Pole vault isn't the kind of sport you can fail in the beginning and then turn the match in the second half. 
We get the opportunity to learn from this experience.
Avoiding a leader position to avoid such pressure is no alternative in sport. Because sport is about wanting to be the best, and being No. 1 respectively ranked as high as possible on the season list is one of many goals you can achieve in sports. 
After a holiday break, we will continue the season to aim for new heights.
19.07.2019
U20 European Championships – Andrina qualified for the final on sunday
Very well prepared the mission startet. With incredible speed Andrina rushed down the runway this friday morning. After passing all the heights until 4.05m, the competition started with a miss. Second attempt at 4.05 wasn't much better but a make and there already the competition was over. 16 athletes went to final, because 5 athletes where equal on 12.-16. place.
So the job is done and now we focus on getting as much out of this competition as possible.
09.07.2019
4.36m  – Andrina springt an die europäische Spitze (U20)  / Andrina rushes to a new european season best 
At her first international appearance Andrina showed all her skills. Imagine the pressure, jumping as first athlete at every hight before a crowd unlike you experienced before, jumping directly after Alysha Newman, who's got a personal best of more than half meter more than you (not anymore, but then;-). The conditions were not favorable, a partly heavy sidewind, not as bad as in Mannheim a week ago, but still not conditions where you might expect that a young athlete breaks his record twice and takes the lead in the U20 european season list by a margin of 6cm and takes 3th place in the world U20. Imagine the possible outcome with a nice tailwind.
Andrina jumped, even under these conditions 2 poles heavier than before (445/23.4 at 4.26 and 430/17.2 at 4.36m), though only small differences in flex. After a promissing jump at 4.46m we changed to another stiffer pole (445/22.5), in prospect of the U20 european championships, to have in mind allready have jumped on that pole. Technique was stable but lots of space to improve. The difference to the competitions before today: Not that much. Missing 4.25m in Mannheim was due to the heavy sidewind and burning heat. Missing 4.30m in Zurich 3 weeks ago was after 4×100 relay, 100m hurdles, 3 hours of pole vault competition and also on a very hot day. So these 4.36m where not an outlier, but it was mentally a convincing performance in an unknown environment. One of the most important skills to possess.
Due to the sidewind results where not great this evening, Alysha took the win by crossing 4.66m, runner-up Tina (4.61m) showed great form. Andrina placed 6th in the end. More to come.
06.07.2019
Andrina läuft 100m in 12.08s
Oder auch: "Andrina schlägt Kambundji", aber "nur" die jüngste Schwester. An den U20 SVM in Sion nutzte Andrina perfekte Bedingungen (+1.9 m/s) zu einem glänzenden 100m Lauf und dem Tagessieg über die Sprintdistanz. Natürlich soll es noch unter die 12 Sekunden gehen, aber im Fokus steht für mich nach Sprint und Hürden noch der letzte Zubringerwert für eine Weltklasse-Stabhochspringerin, irgendwas um oder besser über 6 Meter im Weitsprung.
29.06.2019
U20 Gala Mannheim
Die Reise nach Mannheim war eine Reise der Erkenntnis über die Hitzeverträglichkeit von Andrina. Die Anreise am Freitag liessen wir, wie immer auf deutschen Autobahnen auf der Überholspurangehen, mit Abstechern auf unseren Lieblingsautohof Vöhingen.
Ankunft in Mannheim 22 Uhr. Hotelzimmertemperatur 30 Grad. Klimaanlage defekt (bei Andrina) bzw. wirkungslos, dafür laut (bei mir).
Der Wettkampf, ein Gemurks aus Seitenwind, Seitengegenwind, Kopfschmerzen und grösster Hitze. Kein Spass. Trotzdem ein hoher dritter Versuch über die Anfangshöhe von 4.05m, mit Nerven aus Stahlseilen. Danach wieder dreimal Gemurkse auf 4.20m und das Ende des Wettkampfs. Immerhin staunte die Konkurrenz: "Wenn du den Stab mal richtig erwischt, dann springst du ja aber riiiichtig hoch." (Anmerkung der Redaktion, eine Woche später springen wir schon den nächst härteren im Trainingsbetrieb) wie auch der Bundesnachwuchstrainer: "Da ist ordentlich Potential vorhanden, die ist schon ganz schön schnell im Anlauf." Die Messdaten waren ebenfalls in Ordnung: 7.94 m/s auf den letzten 5 Metern beim Seitengegenwindsprung über 4.05m, danach die Versuche auf 4.20m mit 8.08-8.10m/s, notabene immer noch mit nachteiligem Wind, wenn auch nicht mehr ganz so krass. Da bringt auch die internationale Konkkurenz nicht viel mehr Speed hin, bei der Durchschnittsgeschwindigkeit von 10m bis 5m vor dem Einstich (8.0-8.5m/s).
10.06.2019
Oberhaugstett (D), immer eine Reise wert
Pfingstmontag ist Oberhaugstett-Zeit. Da gibts drei Serien Stabhochsprung auf einer kleinen Sportanlage mit einem Publikum, dass sich jede Schweizer Vereinsmeisterschaft wünscht. Nicht nur Eltern und Teamkameraden, sondern richtige Zuschauer gibt es da – wow; und die feuern an, was das Zeug hält – echt jetzt.
Was nehmen wir sportlich mit aus dem Schwarzwald?
Andrina arbeitet zurzeit an der Einstichbewegung aus vollem Anlauf; dabei setzen wir viel Sprünge aus vollem Anlauf in die Sandgruppe ein. Das führt gewollt zu kürzeren letzten zwei Schritten. Ungewollt – aber mithin zwangsläufig – geht damit eine Störung der räumlichen Wahrnehmung des Athleten beim Anlaufen einher. Der Athlet findet sich im Anlauf nicht mehr dort wieder, wo er sich noch am letzten Wettkampf wohl gefühlt hat. Das kann schon mal dazu führen, dass man in so einer Adaptionsphase einen Wettkampf – zwangsläufig – vergeigt. Deshalb macht man das auch nicht vor einem sehr wichtigen Wettkampf. Das wäre dumm. Der Fokus der Saison lag aber nicht beim heutigen Wettkampf, sondern die Brennweite ist auf Juli/August eingestellt. Wenn man Fortschritt will, muss man Veränderungen angehen und darf den temporären Misserfolg nicht scheuen. Im gesamten Einspringen gelang gerade mal ein Sprung – über alle Anlauflängen zusammengezählt. In der Folge rettete Andrina sich über 3.95m und 4.05 routiniert in den Wettkampf hinein. Anlauf und Sprungrhythmus passten nun, so dass wir mit härterem Stab direkt auf 4.25m steigerten; die Höhe, wo sich aktuell Europas Nachwuchs-Elite tummelt (Rang 1-3 der U20 aktuell 4.26/4.25m). Es passte nicht alles zusammen an diesem Tag und nach diesem Einspringen. Der zweite Versuch war eine gute Annäherung und der dritte hauchdünn, aber mit ein paar Zentimetern zu wenig Griffhöhe und der Stab darf auch noch härter sein. Nach mehrmaligem Videostudium ist man allenthalben schlauer. Der Fortschritt ist da, man sieht die Trainingsansätze in den Wettkampfsprüngen.
Das eigentliche Einspringen war bei mir ausgefallen, Andrina bedurfte in ihrer misslichen Lage meiner Person als Coach. Nach Andrinas Wettkampf wurde ich im Positiven überrascht von einer Neutralisation, die ich nicht auf dem Radar hatte. So kam ich doch noch zu einem Kontrollanlauf und einem Sprung zum Aufwärmen. Danach lief alles irgendwie wie am Schnürchen. 4.55m aus 14 Schritten. Stab gewechselt, zwei Schritte mehr Anlauf und über 4.75m. Schliesslich nochmals Stab gewechselt und über 4.95m. Was willst man mehr? 5.05m natürlich, aber eine solche Höhe, ist bei mir mit einem 450er Griff am 460/15.5 Kategorie Glücksache. Für die 475er Stäbe hätte ich definitiv ein seriöseres Einspringen und/oder mehr Eier benötigt.
Jetzt folgt bei Andrina eine 3-wöchige Wettkampfpause, mit einem Haufen Schulprüfungen, bevor es am 29. Juni an der U20-Gala in Mannheim weitergeht.
Für mich ist der nächste Wettkampf… ungefähr im August. In den nächsten 5 Wochen steht der Teilzeitjob "Coaching" im Vordergrund.
Nächste Woche im Einsatz ist Adi in Genf am internationale Meeting athetica geneva, wo er unter anderem auf Axel Chappelle  (Bestleistung 5.88m) und Charlie Myers (Bestleistung 5.60m) treffen wird. Eine tolle Stabhochsprunganlage und ein tolles Startfeld erwarten Adi.
3.06.2019
SVM 
Der Trend zeigt aufwärts.
Die Schweizer Vereinsmeisterschaften waren für meine Athleten ein Mehrkampf, mit guten Stabhochsprungergebnissen am Ende des Tages – wortwörtlich. 
Adi lief die 110m Hürden in 15.76s. Rund 5 Stunden später scheiterte er  nach übersprungenen 4.80m mit guten Sprüngen an 5.00m. Dabei sprang er wieder einen Stab (490/17.55) härter als noch vor einer Woche. In Anbetracht der Verhältnisse (bei 28 Grad Hitze; Abfahrt Car 6:30 Uhr morgens, Ende Stabhochsprung 6:00 Uhr abends ) eine mental solide Leistung und die Sprünge waren technisch sehenswert. Mehr war an dem Tag nicht herauszuholen. 
Andrina hatte gleich drei Disziplinen zu absolvieren. Zuerst 4x100m Staffel, danach 100m Hürden. Der erste Hürdenlauf der Saison war mit 14,22s ansprechend. Noch knapp über der Limite für die U20 EM (14.15s), aber auch mit minimaler Anstrengung, um Kräfte für den Stabhochsprung zu sparen. Das ging haarscharf auf, denn nach einer neuen PB von 4.20m, bei gefühlt 40 Grad Hitze, war energiemässig Ende Geländer. Die Sprünge waren ein gutes Stück besser wie noch vor einer Woche, aber nach wie vor mit viel Raum für Verbesserungen. Ab 4.20m sprang Andrina einen Stab härter wie bisher (430/17.7) und auch der war teilweise zu weich (bei 420 xx und 430 x). Mit 4.20m rangiert Andrina zurzeit in Europa bei der U20 auf Rang 3.
Schliesslich unser Gast aus der Armee, Abteilung kreativer Kunstflug. Mit 1 Training in den letzten 2 Monaten glaube ich, übersprang Andrin hervorragende 4.60m.
27.05.2019
Saisoneinstieg
Die Kantonalen in Frauenfeld prüften uns am Samstag in allen Kategorien: Rückenwind, Gegenwind, leichter Regen, heftiger Regen, durchtränkte Matte, angenehm warm und später kühl.
Adi übersprang 4.70m und 4.90m bei konstantem Gegenwind. Danach bei 5.00m wechselte der Wind wieder und die Stäbe waren noch sehr weich.
4.90m mit Gegenwind scheiterten bei mir am Power (woher soll der auch noch kommen). Im dritten Versuch mit plötzlich wieder Rückenwind war der Stab zu weich.
Andrina meisterte mit ihrer Anfangshöhe von 4.00m die U20-EM-Limite. Insgesamt passte aber noch nicht viel zusammen, die meisten Sprünge waren unterlaufen.
Am Sonntag ging es weiter nach Riehen, an die Kantonalen beider Basel. Das Wetter war uns nun gnädig, sehr gute Bedingungen.
Andrina stieg wieder bei 4.00m ein, hatte aber die gleichen technischen Schwierigkeiten. Fortschritte im Anlauf – sehr sehr schnell mittlerweilen – sind nie leicht umzusetzen. Die Anlaufmarken verschoben sich im Vergleich zur Hallen-Saison noch einmal ein ganzes Stück. Nach 4.00m scheiterte sie auf 4.20m.
Adi und ich scheiterten nach 4.80 an 5.00m. Adi zeigte technisch sehr schöne Sprünge, mit härteren Stäben als am Samstag. Das Glück war ihm nicht hold auf 5.00m bei den Versuchen zwei (Ständer zu weit) und drei (Stab zu weich).
Weiter geht's an Auffahrt mit Sprint und Hürden.
24.03.2019
2. LVW Trainertag
Das Thema "Trainingsplanung" stand gestern im Fokus.
Michael Rüegg, swiss-athletics, präsentierte uns seine Erfahrungen im Training mit Fabienne Schlumpf und seine Ansätze der Trainingsplanung mit Fokus auf den Laufbereich. 
Anschliessend folgten Referate der LVW-Trainer
Pal Johansen über Sprint (und Mehrkampf),
Patrick Schütz über Sprung,
Gabi Niederhauser Frauen Mehrkampf und
Georg Pfarrwaller über Kurz- und Langsprint.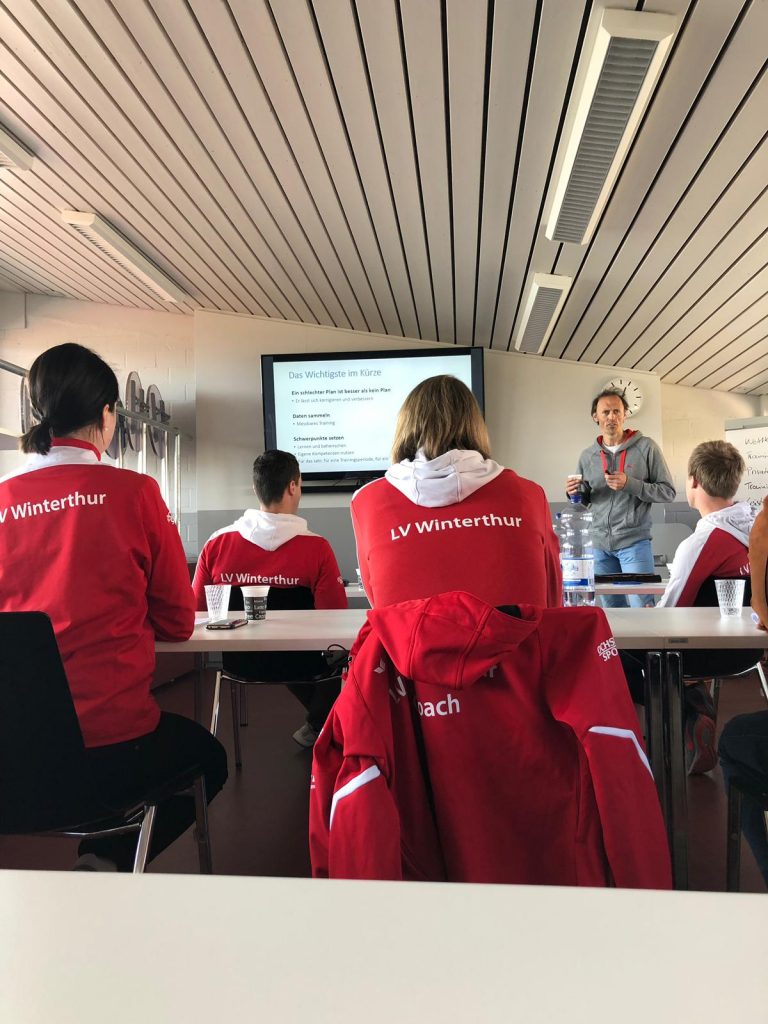 Adi is Back
Nach 3 Monaten down under bei
Zsuzsanna Olgyay-Szabo
(PB 4.50m, 3. Hallen-WM 1999) in New South Wales ist Adi Back in Town.
Nachwuchs Hallen-SM 2019
Andrina setzt ein letztes Ausrufezeichen. 8.61s über 60m Hürden. Der Rang, Bronzemedaille, bleibt- für mich – eine Randnotiz. Die WU20 Jahrgang 2000 ist ein Spitzenjahrgang. Die Zeit von 8.61s hievt Andrina in der Saisonbestenliste der Aktiven auf Rang 6 und unter Stabhochspringerinnen an die Spitze.
Aus dem Blickwinkel des Stabhochtrainers öffnet sich mit dieser Zeit ein Tor. Ein Tor durch das nach der famosen Sprintzeit von vor einer Woche – 7,69s – auch noch der Letzte erkennen kann, was hier für ein Potential schlummert, das sich noch hinter einer Hausmarke von 4.10m versteckt.
Zubringerleistungen, Voraussetzungen sind und bleiben immer nur das eine, was es zur Leistung braucht. Die Umsetzung bleibt immer eine Notwendigkeit. Aber: Ex nihilo nihil fit. Und wo was ist, kann auch was werden.
Ich hatte Mühe unter den Weltklasse-Stabhochspringerinnen eine zu finden, welche Andrinas 60m Zeit – 7.69s – unterbietet. Ich scheiterte.
Gleiches widerfährt mir nun mit dieser Hürdenzeit – 8.61s. Ich bin für sachdienliche Hinweise dankbar.
Die Statistiken auf iaaf.org helfen einem beim Auffinden, welche Leistungen Stabhochspringerinnen in anderen Disziplinen anbieten bzw. in der Regel im Nachwuchsalter angeboten hatten, bevor sie sich auf Stabhochsprung konzentriert haben. Im Kurzsprint über 60m lassen sich Zeiten von 7.93s (Katie Nageotte) und 7.94s finden (Ninon Guinon Romarin und Holy Bradshaw). Am dichtesten auf den Fersen scheint Andrina die Deutsche Jacqueline Ochere mit 7.71s (4.60m im Stabhochsprung). Über die Hürden verkörpern Nicole Büchler (8.65s), Sandi Morris (8.68s) und Angelica Moser (8.68s) die Weltklasse unter den Stabspringerinnen.
Damit bleibt mir die Ehre und die Bürde dieses Potential im Stabhochsprung zu formen – challenge accepted.